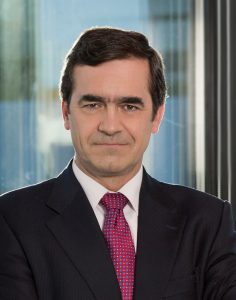 US President, Cintra
Nicolas Rubio is US President at Cintra, the transportation infrastructure development arm of the infrastructure global leader Ferrovial. Cintra operates on three continents with managed assets in excess of $25 billion. In the US Cintra is a majority shareholder in toll roads with an investment over $13 billion, including SH 130 in Cental Texas; NTE, LBJ, and I-35W in the Dallas Fort Worth region; the Chicago Skyway; and the Indiana Toll Road. Cintra was recently selected preferred bidder for the I-77 managed lanes project in North Carolina.
Leading operations from Cintra's US corporate headquarters in Austin, Texas, Mr. Rubio has more than two decades of international executive leadership experience within the transportation and construction sectors.
From 1998 through 2009, Mr. Rubio was Head of Business Development and Technical Department for Cintra. During his tenure, Mr. Rubio was involved in the development of more than 150 private infrastructure projects spanning more than 30 countries.
Mr. Rubio's professional experience began in the construction industry, with several executive management positions in Europe and Africa. His professional qualifications include a Master's degree in civil engineering from Universidad Politecnica de Madrid, Spain.
In 2010 Mr. Rubio was presented the Entrepreneur of the Year Award by the American Road and Transportation Builders Association "for his continuing contributions that have promoted the art and practice of public private partnerships for transportation in the United States".
Mr. Rubio and his family reside in Austin, Texas.